Language- Review due Tuesday; Test on Unit 6 on 5/10/18

Reading-20 minutes of reading and record in log

Math-Review due Tuesday; practice facts
Emoji-E7.4 &7.5
Banana- Practice Test 3a-Test tomorrow

Spelling- Packet due Friday; test tomorrow; write words 1x in abc order

Geometry-No Homework!!!!

Social Studies- Economics test on Wednesday. Look for review and study guide Monday.
Powered by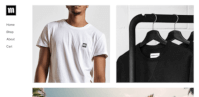 Create your own unique website with customizable templates.